Hej,
Jeg har lige postet det her ovre på det engelske forum. Men jeg syntes også lige at i skal have glæde af det her. Jeg orker bare ikke lige at skrive det hele på dansk igen. Håber at i kan bære over med det.
Forresten er DVD slideshow GUI oversat til dansk, man skal bare vælge det i menu'erne.
Håber at nogen får fornøjelse ud af det.
Mvh
Tin2tin
Import of Impress(odp) and Power Point(ppt) files are now supported in
DVD slideshow GUI
(freeware).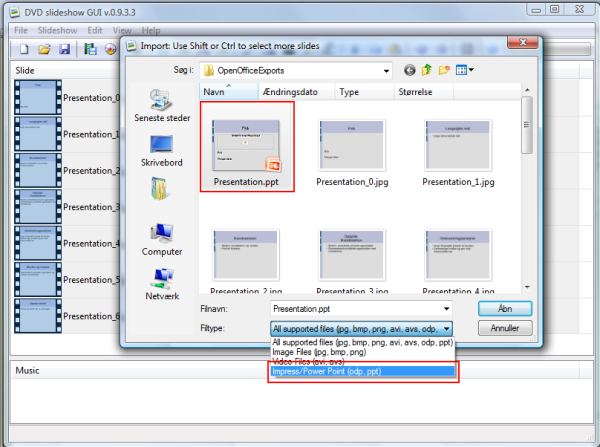 However Open Office is needed for the process, so first you must download and install the Open Office(I've only tested with v. 3.0 and v. 3.1).
When DVD slideshow GUI is started it will find Open Office if it is installed in the default location or else you'll have to correct the path of Open Office in DVD slideshow GUI > Slideshow > External Applications. Now you should be able to import ppt and odp.
If you want to convert your ppt/odb presentation to a remote-controllable-dvd you need to install
Gui for dvdauthor
this can also be done by reinstalling DVD slideshow GUI and check Gui for dvdauthor in the installer and it will be installed automatically. When both programs are installed properly and the paths are set up in the External Applications window, all you have to do is DVD slideshow GUI > Files > 'Export to DVD Menus' and in 'Gui for dvdauthor' change the look of the menus to your liking and finally hit 'Burn DVD'.
I guess you could say that this is a free odp2dvd or ppt2dvd solution.
The Open Office code behind the solution is
here
.
If anyone comes up with a better open and shut Open Office down routine let me know.